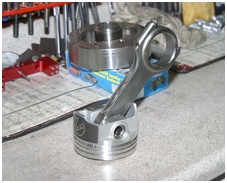 Each student has his / her own roll around tool cabinet stocked with a complete set of basic tools, installers, pullers, micrometers, feeler gauges, dial indicators, etc. needed for building an engine.
The price of this AWESOME Engine Building Crash Course is $1,995 per student.
Just for a comparison; if you hired Arron to build you a custom engine (without receiving any instruction or getting any hands-on experience along the way), it could easily cost $3,000 or more in labor alone, NOT including parts! Calculated to an hourly cost, it comes out to HALF of what it would cost to hire Arron at shop rate to do any kind of labor for you!
In this course you get ALL of the materials INCLUDED in the price, PLUS 3 FREE DVDs (a value of $99.85!), plus EACH student gets his/her OWN complete engine to build, from start to finish. It truly is 100% personalized, hands-on instruction by a TRUE industry pro with a 3 decade long / world wide reputation for building THE baddest engines and cars around! This isn't your ordinary auto shop class!
Classes fill-up fast so don't delay!! E-mail us for any other details and for the next starting schedule.